Tarsons Products IPO Shares Allotment Status Is Out Now! See How To Check Your Status
As part of Tarsons Products IPO, the company raised Rs 1,023 crore. The Tarsons' IPO included a new issuance of Rs 150 crore and the rest was raised via an offer for sale by selling stockholders.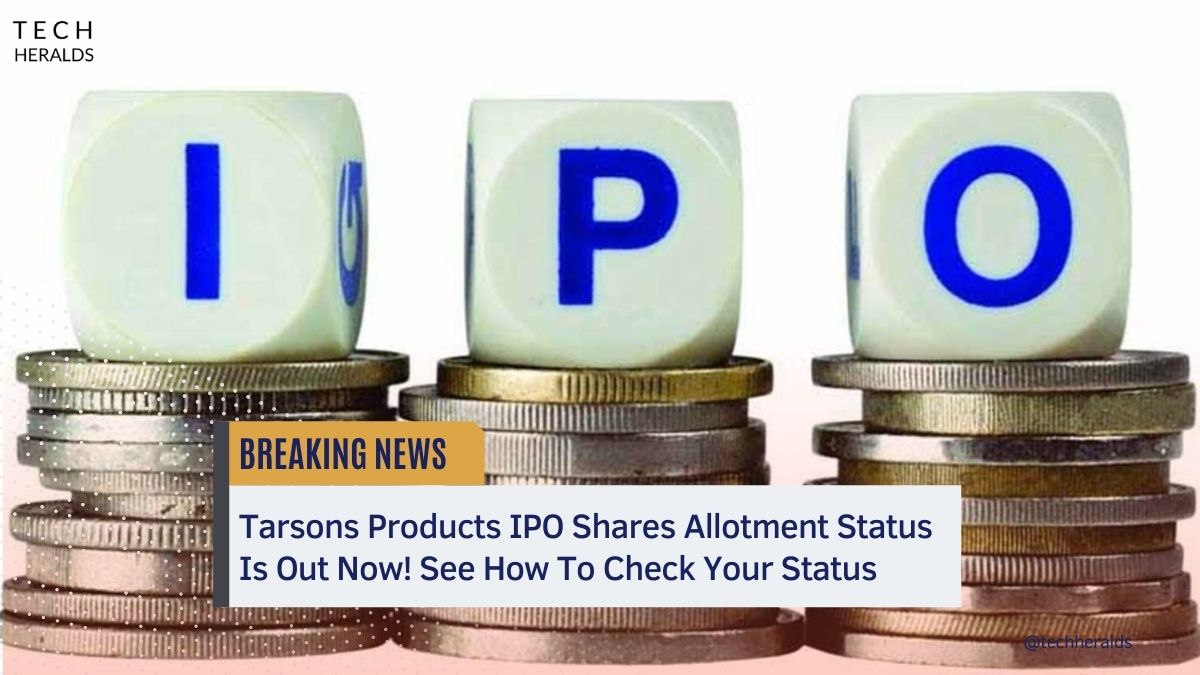 Tarsons Products IPO, which was offered for subscription from November 15 to November 17, seemed to have an overwhelmingly positive response throughout the period. Following that, Tarsons Products has announced today that the company has finalized its Rs 1023.47 crore initial public offering (IPO) allocation.
As part of Tarsons Products IPO, the company raised Rs 1,023 crore. The Tarsons' IPO included a new issuance of Rs 150 crore and the rest was raised via an offer for sale by selling stockholders. Subscriptions to the Qualified Institutional Buyer (QIB) reserved quota reached a subscription of 115.77 times, while the Non-Institutional Investor (NII) reserved quota was subscribed 184.54 times, Retail Individual Investor (RII) was subscribed 10.56 times, and the Qualified Institutional Buyer (QIB) reserved quota received 1.83 times subscriptions.
Tarsons Products' shares, on the other hand, were selling on the Grey Market at Rs 812, with a premium of Rs 150, which increased to Rs 170 after a period of trading. The grey market is an unauthorised marketplace where IPO shares are traded beginning with the announcement of the price band and continues until the shares are listed on the stock exchanges.
"As can be seen by grey market premium, this is an appealing firm that is offered at a fair value and has the potential to earn a 30 percent listing premium. Tarsons' future prospects, on the other hand, will be tied to the pharmaceutical business, which is now experiencing a slowdown " says Wright Research founder Sonam Srivastava, who is also its CEO.
Also Read: Purplle plans to go for an IPO in 3 to 4 years: Co-founder
Tarsons Products is an Indian labware company that designs, manufactures, and supplies high-quality labware equipment and consumables to research institutions, including Dr Reddy's Laboratories, Agappe Diagnostic, the Institute of Chemical Technology, the Metropolis Healthcare System, the National Centre for Biological Sciences, Dr Lal Path Laboratories, the Molbio Diagnostics Corporation, and Syngene International, among others. Tarsons Products manages its operations through its five manufacturing facilities in West Bengal.
After Tarsons Products IPO, the company is expected to list on the Bombay Stock Exchange and the National Stock Exchange on November 26. Based on the significant grey market premium, good financials with healthy ratios, and great growth potential in the longer term, Stocks Experts predict that the company will list on the BSE and NSE at a 20-30 percent premium to the issue price.
Bidders who are keen to find out whether they have been allotted Tarsons Products IPO shares or not can now check their share allocation status either on the BSE's official website or on the website of Kfintech Pvt Ltd, the company that handled the company's initial public offering.
Also Read: Delhivery files DRHP for IPO with SEBI, issue size of Rs 7,460 crore
Check Tarsons Products IPO (Initial Public Offering) allocation status on the BSE website.
Bidders who submitted applications for the Tarsons Products Initial Public Offering (IPO) may check the progress of their applications by logging onto the BSE official website through the URL bseindia.com/investors/appli check.aspx.
After login onto the BSE's official website, go to the Tarsons Products Initial Public Offering (IPO).
Provide your IPO application number in the following field.
The site will then ask you for your PAN card information; provide your PAN number in the exact forma
Confirm that you are not a robot by completing the captcha.
Finally, click on the 'submit' button to complete the process.
The application status of your Tarsons Products will be shown on your computer's display screen.
Check Tarsons Products IPO (Initial Public Offering) allocation status on the KFintech website.
Log onto the KFintech website using this direct URL – kprism.kfintech.com/ipostatus/
After signing in, pick Tarsons Products IPO from the drop-down menu.
You will be asked to provide information such as your Application Number, DPID/Client ID, or PAN card number. You have the option of selecting any of these.
Fill out the form with the specifics of your desired option from the previous step.
Complete the Captcha information.
After that, click on the 'Submit' button.
Elon Musk Breaks Silence on Twitter's Failures Since Takeover
It's been more than six months since Elon Musk took over the charge of Twitter. Since then, the micro-blogging firm has been in the news for all the wrong reasons. Roles and responsibility shuffling, termination of employees, and the recent subscription-based verified badge all are indicating the decisions are nothing but obnoxious. In a recent interview with the BBC, Twitter CEO Elon Musk described his experience as Twitter CEO as a "rollercoaster," acknowledging the highs and lows that have taken place in his tenure.
Twitter categorized the BBC's Twitter account as "government-funded media," a designation that is often reserved for government-owned and operated news organizations. This prompted the broadcaster to have a dialogue with Twitter's Elon Musk. It is important to note that Musk has been skeptical of conventional media, and when challenged, the press email address for Twitter even sends back a poop emoji.
Elon Musk, the CEO of Twitter, made a number of recent steps, including the announcement that all legacy verified accounts will lose their ticks unless the accounts subscribed to Twitter Blue, a monthly subscription that costs $11 in the United States and 900 rupees in India. This choice was taken to prevent influential journalists from having the ability to choose which pieces of news should get more attention. Musk has voiced the expectation that this step would give the general population the ability to determine the narrative, rather than the media.
In the interview
Elon Musk has given admission to mistakes and errors that happened on Twitter since he took the leadership of the platform. He also said that he feels the business is "going to a nice place." According to him, the business is "basically breaking even" at this point since advertisers are starting to come back.
It is commendable that Elon Musk is willing to take responsibility for Twitter's shortcomings and missteps. It is quite unusual for a CEO to acknowledge having made errors, and it is even more unusual for them to do so in public. Nonetheless, Musk's honesty in addressing the company's failures might help the public trust Twitter more, realizing that they are mindful of their weaknesses and striving to improve. This is because the public would know that Twitter is aware of its failings and is working to improve.
Elon Musk's interview with the BBC provides light on the highs and lows of his term as CEO of Twitter, His acknowledgment of faults and failings is a welcome change. Only time will tell whether Twitter is able to win back the confidence of the general people and transform into a platform that emphasizes authenticity and transparency.
Netflix Layoffs 150 Employees Given Declining Subscribers Base
Netflix layoffs 150 employees from its workforce. The layoffs will mainly affect its office in the United States, which is located in the state of California.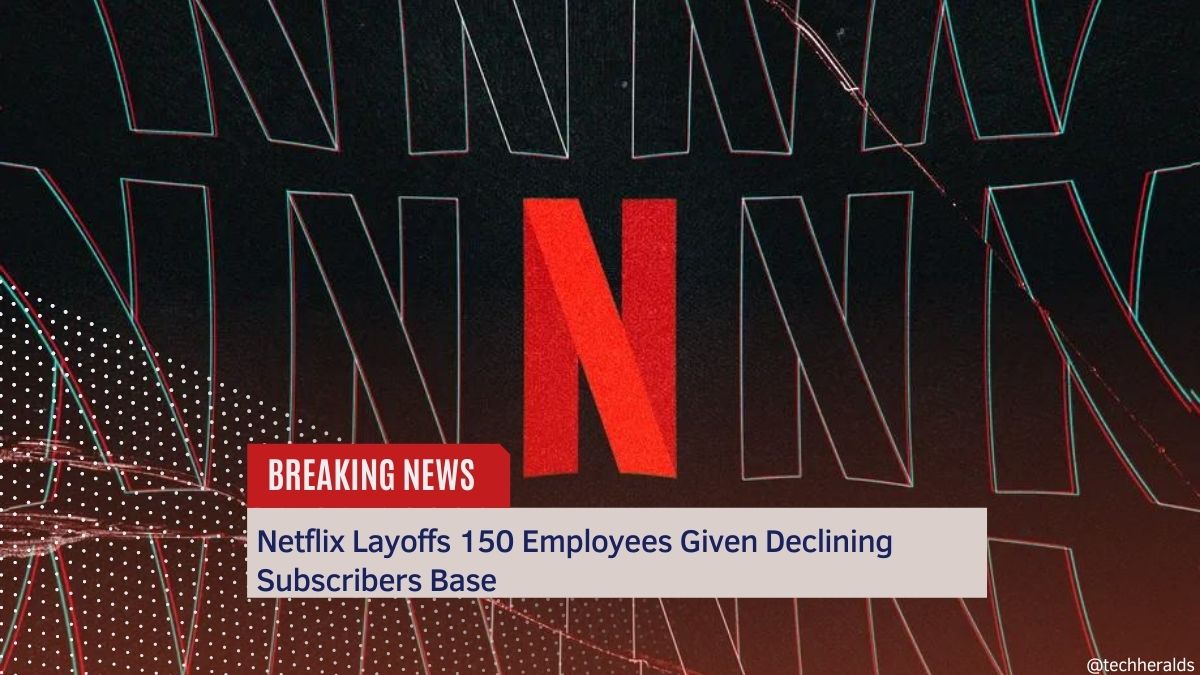 World's largest OTT platform, Netflix layoffs 150 employees from its workforce. The firm has been lately striving hard to retain its falling number of subscribers, but it seems Netflix could not succeed in stopping the number of subscribers from plummeting. So, Netflix on Tuesday announced that it was laying off 2 percent of its staff.
The layoffs will mainly affect its office in the United States, which is located in the state of California. They make up roughly 2 percent of the company's workforce in North America, somewhere around 7,500 people.
Why Netflix Layoffs Its Staff?
Netflix announced in April 2022 that it had lost 200,000 members in the first three months of the year. This was the first time that the streaming service had ever seen a significant decline in consumers. The company also warned that another two million users were projected to flee in the next quarter.
Also read: OnePlus Ace Racing Edition Launching In China
Despite these losses, Netflix remains the undisputed market leader with 220 million subscribers worldwide. However, its rivals are expanding at a much quicker pace than before, and they are starting to intrude into its domain by providing content and services that are alternative to their own.
Netflix has already taken steps to address this issue by reducing its workforce by 2% (around 150 employees) to reduce costs and increase efficiency. However, some analysts believe that further layoffs may be necessary if Netflix wants to remain competitive as its rivals continue their meteoric rise in popularity among customers worldwide.
"Netflix's recent financial report showed that the business had lost customers due to the conflict in Ukraine and its decision to hike pricing in the United States. It was found that only leaving the Russian market had resulted in a loss of 700,000 subscribers for the business.
However, this was not the only bad news for Netflix. The company also announced an increase in its quarterly losses and said that it would be raising prices for new customers.
Clarification On Netflix Layoffs
A spokesperson for Netflix has released a statement regarding the company's recent decision to reduce the number of employees by 2%.
The statement reads: "These decisions are primarily motivated by business requirements rather than individual performance, making them highly challenging since none of us want to say goodbye to such terrific colleagues.
The statement did not clarify which divisions of Netflix were impacted by these layoffs; however, according to the reports, content creation and recruitment departments and communications departments were affected by these job cuts.
Netflix is also trimming the number of its original productions. To minimize expenses, it decided to stop the creation of Pearl, an animated series that Meghan Markle developed. This decision was made in early May.
Also read: Oppo Reno 8 Lineup Launching On May 23 In China
Testing Alternative Revenue Models
Since it announced that it would be raising prices, Netflix has been investigating other ways that it may make cash. While the company has said that it still needs more time to figure out how these changes will affect its users, they have already begun testing ad-based pricing models.
The company is also working with advertisers to ensure that their ads are relevant instead of interrupting the user experience.
The OTT company also stated that it would be cracking down on password sharing among family members or friends who may be sharing accounts. Netflix said this practice was responsible for losing 100 million homes in worldwide markets, including India and China.
Also read: iPhone 14 Lineup Launch Just Months Away, See Specs
Crypto Legalization In India Never Possible, Says Finance Secretary Somanathan, Leaves Traders In Worry
Crypto legalization can never be considered in India Cryptocurrencies and NFT are digital currencies whose price is determined by a transaction between two parties.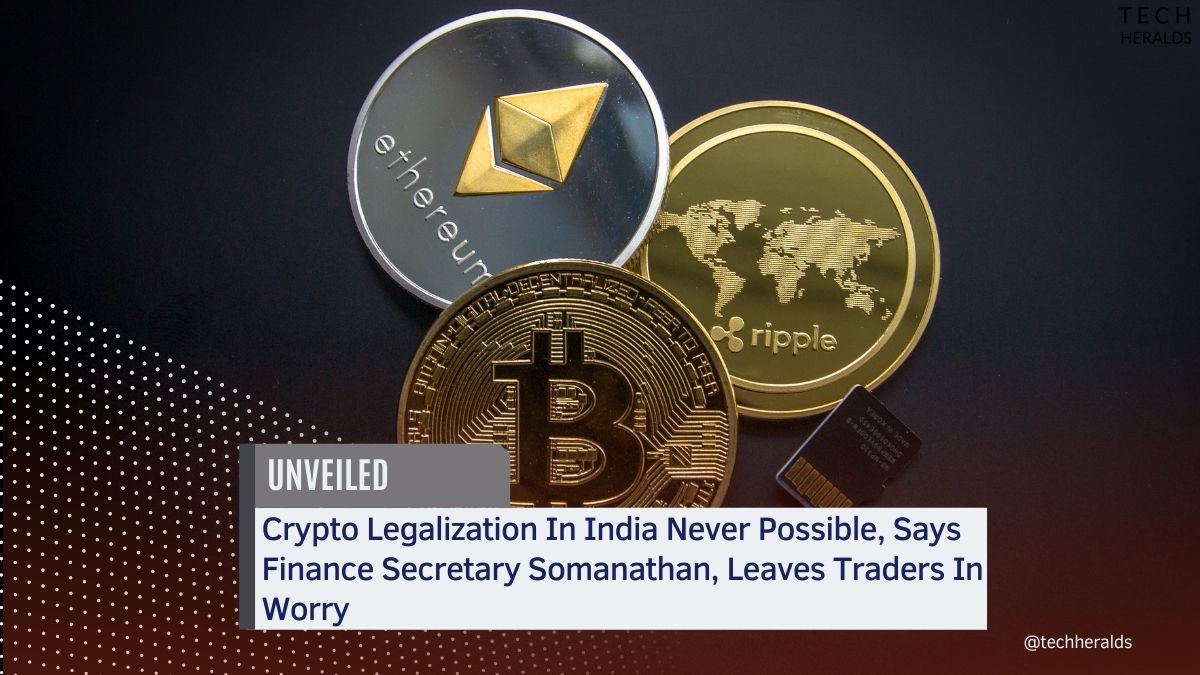 According to the Reserve Bank of India (RBI), virtual currencies gaining ground in India, including the newly founded Non-Fungible Tokens, will never be accepted as legal tender in India, which creates doubts about crypto legalization in India, Somanathan, Finance Secretary of India, stressed that only digital currencies that would not default would be supported by the Reserve Bank of India (RBI).  TV Somanathan was speaking about the central bank's stand on cryptocurrencies after Finance Minister of India Nirmala Sitharaman confirmed that virtual digital assets will be subject to a 30 percent tax.
Crypto legalization can never be considered in India Cryptocurrencies and NFT are digital currencies whose price is determined by a transaction between two parties.
TV Somanathan On Crypto Legalization
After being pressed to clarify his position, the Finance Secretary said that anyone who seeks to engage in private cryptocurrency should be aware that such investments do not have the government's permission and that there is no guarantee whether their investment will be profitable or not. He went on to say that although one may incur losses, the central government is under no obligation to reimburse one for such losses.
Also Read: Crypto Tax Policy Brings 30% Tax On Cryptocurrency Transactions, No Respite On Losses
Providing clarity on the issues of cryptocurrency and crypto legalization, Somanathan stated the Reserve Bank of India would support the digital currency, and the money will be under its control; nevertheless, the currency will be digital in form. The Reserve Bank of India (RBI) has declared that the digital rupee that it will create would be recognized as legitimate money.  TV Somanathan said, "The rest of them do not fall under legal tender as per the opinion of the Reserve Bank of India, and they will never have legal tender status.
As part of her Budget 2022 address, the Finance minister of India, Nirmala Sitharaman, proposed a 30 percent tax on digital assets derived from virtual assets delivered on Tuesday. The scale and prevalence of these transactions, in her opinion, have increased dramatically in recent years, and she believes that a particular tax system should be formed to address the frequency and amplitude of these transactions.
Also Read: What Is Web3.0, Its Advantages And Disadvantages
It has been clarified that, except for the cost of purchase, no deductions would be permitted in respect of any expenditures or allowances while calculating such income, according to her. Aside from that, she recommended an additional 1% service fee on payments made regarding payments on virtual digital assets that are transmitted in amounts more than and equal to the threshold monetary amount. The proposed 30 percent tax on the cryptocurrencies will be chargeable at the receivers end, which means the sender of digital currency will not have to pay any tax. But the receiver of the currency will be liable to pay the newly proposed 30 percent tax. While in trading in these digital currencies, there will be no tax on purchasing but selling off coins will be taxable at 30 percent.
Also Read: Google And Airtel Partnership Begins! Google To Invest $1 Billion In Bharti Airtel
Crypto traders seemed happy with the newly proposed crypto tax policy yesterday. However, crypto legalization bill is what they are waiting for. On the other hand, there was a little surge in values of the crypto coins. However, there was a significant fall in price today.
Also Read: Swiggy Raises Funding In Series K Round, Total Market Value Goes Up To $10.7 Billion
New Feature On CoWIN Portal Allows To Add Up To 6 Beneficiaries Per Account, More Features Introduced too
OnePlus Nord 2T Will Replace Nord 2? Leaks Suggest Nord 2T Will Come In India Around April Or May 2022