WhatsApp On Multi-device Will Soon Be Possible
the messaging app is working on a new feature called WhatsApp on multi-device that will enable its users to communicate with one WhatsApp account from multiple devices.
WhatsApp beta for Android and iOS now allows users to link a second mobile device to their account, enabling support for WhatsApp on multi-device feature. This is a significant upgrade over the previous state of affairs, in which the multi-device feature could only be used through a desktop client or a web browser.

Users can now use their WhatsApp number on more than one mobile device. It is important to note that this is not an active feature yet, as only one device can be used at any given time. That is, you cannot simultaneously use your WhatsApp account on two different devices at once. But it is notable progress towards full support for multi-device usage.
WhatsApp On Multi-device Will Allow Uninterrupted Chats
Rumours abound that WhatsApp, the popular messaging app owned by Facebook, is preparing to launch a new feature that would allow users to communicate with the same account on multiple devices. According to a report from WABetaInfo, the messaging app is working on a new feature called WhatsApp on multi-device that will enable its users to communicate with one WhatsApp account from multiple devices. To register your new device, you will scan a code displayed on your screen. At this time, there does not seem to be any such code visible.
Also Read: The POCO M4 5G Launched In India, See Specs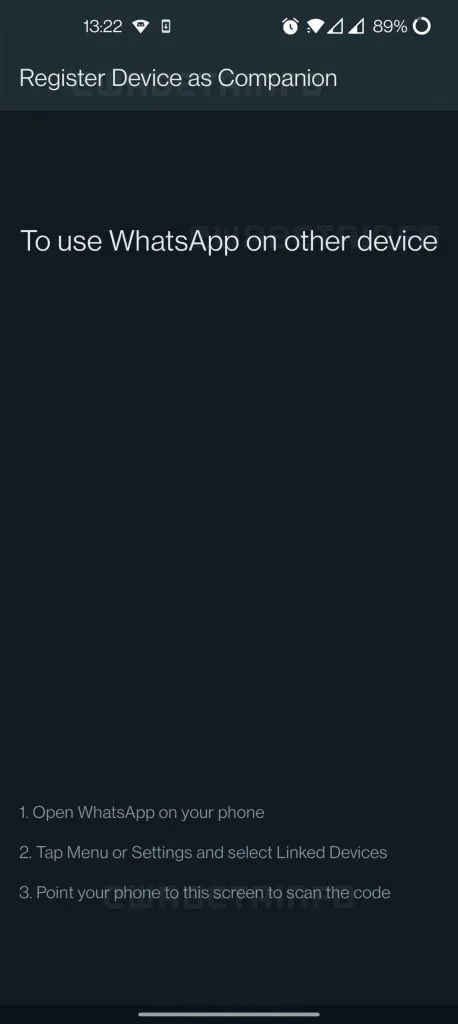 An earlier version of WhatsApp had shown that the app was working on syncing recent messages across devices, despite being end-to-end encrypted from beginning to end. At this time, it is uncertain whether or not this functionality will be accessible on iOS when it is released. However, there is precedence to suggest that it will be available across all mobile operating systems supported by WhatsApp.

WhatsApp's Linked Devices feature already enables users to access their accounts from multiple devices such as PCs and laptops but only supports these secondary devices as PCs or laptops; it does not support various mobile phones or tablets. Nevertheless, this new WhatsApp on multi-device feature will enable individuals who have multiple mobile phones or tablets to access their WhatsApp accounts simultaneously without signing out of one device before signing into another one again.
Also Read: The Tecno Phantom X Debuts In India
WhatsApp Is Also Brining In Quick Reactions
Apart from this, WhatsApp is developing a Quick Reactions feature to enable users to respond to a status update by sending an emoji. Instagram and Facebook Messenger have already included the functionality. The Quick Reaction will bring about eight reaction emojis, which will consist of a smiling face with heart eyes, a face with tears of joy, a face with an open mouth, a crying face, a person with folded hands, clapping hands, a party popper, and a hundred points emoji, among others. The Quick Reaction will be available on iOS and Android devices.
Introducing Apple Vision Pro: Revolutionizing Spatial Computing
Apple Unveils Apple Vision Pro, the Future of Spatial Computing
Cupertino, California – Apple has officially announced the launch of Apple Vision Pro. This groundbreaking spatial computer seamlessly merges digital content with the real world while keeping users connected and engaged.
Vision Pro introduces an infinite canvas for apps, surpassing the limitations of traditional displays, and features a fully three-dimensional user interface controlled by natural inputs like the user's eyes, hands, and voice. This remarkable device comes with visionOS, the world's first spatial operating system, which enables users to interact with digital content as if it were physically present in their surroundings.
Apple Vision Pro has an ultra-high-resolution display system, boasting 23 million pixels spread across two displays. It incorporates custom Apple silicon in a unique dual-chip design to deliver real-time experiences right before the user's eyes.
A New Era for Computing
Apple CEO Tim Cook expressed his excitement about the release of Apple Vision Pro, stating, "Today marks the beginning of a new era for computing. Just as the Mac brought personal computing to the masses and the iPhone revolutionized mobile computing, Apple Vision Pro introduced us to the world of spatial computing.
With its revolutionary input system and countless groundbreaking innovations, Vision Pro offers incredible experiences for our users and opens up exciting opportunities for developers."
Mike Rockwell, Apple's Vice President of the Technology Development Group, emphasized the extensive effort put into creating Apple's first spatial computer, stating, "Designing our first spatial computer required innovation across every aspect of the system.
Through the tight integration of hardware and software, we have developed a standalone spatial computer in a compact wearable form factor that is the most advanced personal electronics device ever created."
Extraordinary Experiences Await
Apple Vision Pro redefines personal computing by transforming how users interact with their favorite apps, capture and relive memories, enjoy multimedia content, and connect with others through FaceTime.
With visionOS, users can access a three-dimensional interface that liberates apps from the confines of a traditional screen, allowing them to appear side by side at any scale. This enables users to enhance their productivity with limitless screen real estate, easy access to their preferred apps, and novel multitasking capabilities.
By supporting Magic Keyboard and Magic Trackpad, Vision Pro seamlessly integrates with Mac devices, creating a massive, private, and portable 4K display with incredibly sharp text.
Entertainment experiences are taken to new heights with Apple Vision Pro's dual ultra-high-resolution displays, offering users a personal movie theater experience with a screen that appears 100 feet wide. The advanced Spatial Audio system provides immersive sound, while Apple Immersive Video delivers high-resolution 180-degree recordings with Spatial Audio.
Also, users can explore a diverse collection of immersive videos that transport them to captivating virtual worlds. Gaming is also revolutionized, with spatial computing allowing for new types of games that immerse players in entirely new realms.
Apple Arcade enthusiasts can enjoy over 100 games on a screen of any desired size, accompanied by immersive audio and support for popular game controllers.
Immersive Environments and Captivating Memories
Vision Pro introduces the concept of Environments, allowing users to expand their world beyond the physical boundaries of a room with dynamic and stunning landscapes. Environments create an immersive space, promoting focus and reducing visual clutter in busy surroundings.
Users can effortlessly adjust their level of immersion using the Digital Crown, granting them control over their presence in a given environment.
The innovative three-dimensional camera featured in Apple Vision Pro brings memories to life, enabling users to capture, relive, and immerse themselves in their favorite moments using Spatial Audio.
Spatial photos and videos transport users back in time, evoking the emotions of special occasions and cherished gatherings. The device seamlessly integrates with iCloud, providing users access to their entire photo library displayed at a life-size scale, boasting vibrant colors and remarkable detail. Panorama shots taken with an iPhone expand and envelop the user, creating a sense of being present at the original location where the photo was captured.
FaceTime in a Spatial Realm
Apple Vision Pro revolutionizes the FaceTime experience, leveraging the device's spatial capabilities to create an immersive communication platform. During a FaceTime call, participants are reflected in life-size tiles, accompanied by Spatial Audio that creates the illusion of participants' voices originating from their specific positions.
Users wearing Vision Pro become digital representations of themselves, known as Personas, generated using advanced machine learning techniques. These Personas mirror users' facial and hand movements in real-time, enabling shared activities like watching movies, browsing photos, or collaborating on presentations.
Expanding the App Ecosystem
Apple Vision Pro introduces an all-new App Store, offering users a vast selection of apps and content tailored for the device. Users can discover new apps, as well as access a vast library of familiar iPhone and iPad apps, all optimized to integrate with the new input system of Vision Pro seamlessly.
Developers are encouraged to explore the powerful and unique capabilities of Vision Pro and visionOS to create innovative app experiences and reimagine existing ones within the spatial computing landscape.
A Revolutionary Operating System and User Interface
Built on the strong foundations of macOS, iOS, and iPadOS, visionOS has been meticulously designed to support the low-latency requirements of spatial computing. The result is a groundbreaking operating system that delivers powerful spatial experiences, taking full advantage of the user's surrounding space and unlocking new opportunities in professional and personal settings. visionOS boasts a brand-new three-dimensional interface that seamlessly blends digital content into the user's physical environment.
By dynamically responding to natural lighting conditions and casting shadows, visionOS enhances the user's perception of scale and distance. Apple Vision Pro introduces an entirely new input system, empowering users to navigate and interact with spatial content using their eyes, hands, and voice.
Users can effortlessly browse apps by simply looking at them, tapping their fingers to make selections, flicking their wrists to scroll, or using voice commands to dictate actions.
Apple Vision Pro's EyeSight feature is an extraordinary innovation that fosters user connections. When approaching someone wearing Vision Pro, the device becomes transparent, enabling users to see the wearer's face while still displaying their eyes.
When users are fully immersed in an environment or using an app, EyeSight provides visual cues to others, indicating the user's current focus of attention.
A Breakthrough in Design
Apple Vision Pro showcases the culmination of Apple's expertise in designing high-performance products, combining elements from Mac, iPhone, and wearables such as the Apple Watch. The result is an unparalleled personal electronics device. In order to achieve exceptional performance, mobility, and wearability, Apple incorporated the most advanced materials available.
The design of Apple Vision Pro revolves around a singular piece of three-dimensional formed and laminated glass that acts as an optical surface, serving as a lens for a wide array of cameras and sensors responsible for blending the physical world with digital content. This glass elegantly flows into a custom aluminum alloy frame, gently curving around the user's face. The modular system allows for a tailored fit, accommodating many users.
The Light Seal, made from a soft textile, flexes to conform to the user's face, ensuring a precise fit. Flexible straps keep the audio close to the user's ears, while the Head Band, knitted as a single piece, provides cushioning, breathability, and stretch. The Head Band is available in multiple sizes and can be easily interchanged to suit the user's preferences.
Unrivaled Hardware Innovations
Apple Vision Pro offers phenomenal computing performance in a compact wearable form
factor. The device's ultra-high-resolution display system, built on top of an Apple silicon chip, utilizes micro-OLED technology to pack an astonishing 23 million pixels across two displays, each roughly the size of a postage stamp.
The result is jaw-dropping visual clarity and sharpness, complemented by a wide color gamut and high dynamic range capabilities. To ensure visual fidelity and eye-tracking accuracy for users with vision correction needs, ZEISS Optical Inserts are available.
Spatial Audio is a core component of the Apple Vision Pro experience, creating a surround sound sensation that matches sounds to the user's spatial environment. Personalized Spatial Audio is delivered through two individually amplified drivers inside each audio pod, adapting the audio output based on the user's unique head and ear geometry.
Apple Vision Pro incorporates a high-performance eye-tracking system using high-speed cameras and a ring of LEDs that project invisible light patterns onto the user's eyes, enabling responsive and intuitive input.
These groundbreaking hardware innovations are made possible by Apple silicon in a distinctive dual-chip design. The M2 chip provides unparalleled standalone performance, while the brand-new R1 chip processes input from 12 cameras, five sensors, and six microphones, ensuring that content appears seamlessly in front of the user's eyes in real time.
The R1 chip streams new images to the displays within an astonishing 12 milliseconds, eight times faster than the blink of an eye. Apple Vision Pro is designed for all-day use when connected to a power source and offers up to two hours of usage with its external, high-performance battery.
Industry-Leading Privacy and Security
Apple Vision Pro prioritizes user privacy and security at its core. Optic ID, a secure authentication system, uses invisible LED light exposures to analyze a user's iris. This analysis is compared with encrypted Optic ID data stored in the Secure Enclave, ensuring instant unlocking of Apple Vision Pro.
The user's Optic ID data is fully encrypted, inaccessible to apps, and never transmitted to Apple servers.
Apple Vision Pro respects user privacy by keeping eye-tracking information confidential and not sharing it with Apple, third-party apps, or websites. Camera and sensor data are processed at the system level, eliminating the need for individual apps to access users' surroundings for spatial experiences. EyeSight also features a visual indicator to inform others when a user captures a spatial photo or video.
Pricing and Availability
Starting at $3,499 (U.S.), Apple Vision Pro will be available for purchase early next year on apple.com and in Apple Store locations across the United States. Availability in additional countries will follow later in the year.
Customers can visit Apple Store locations to explore, experience, and customize their fit for Vision Pro. For more information about Apple Vision Pro, please visit apple.com/apple-vision-pro.
The Sky's the Limit: The Exciting Future of Drone Delivery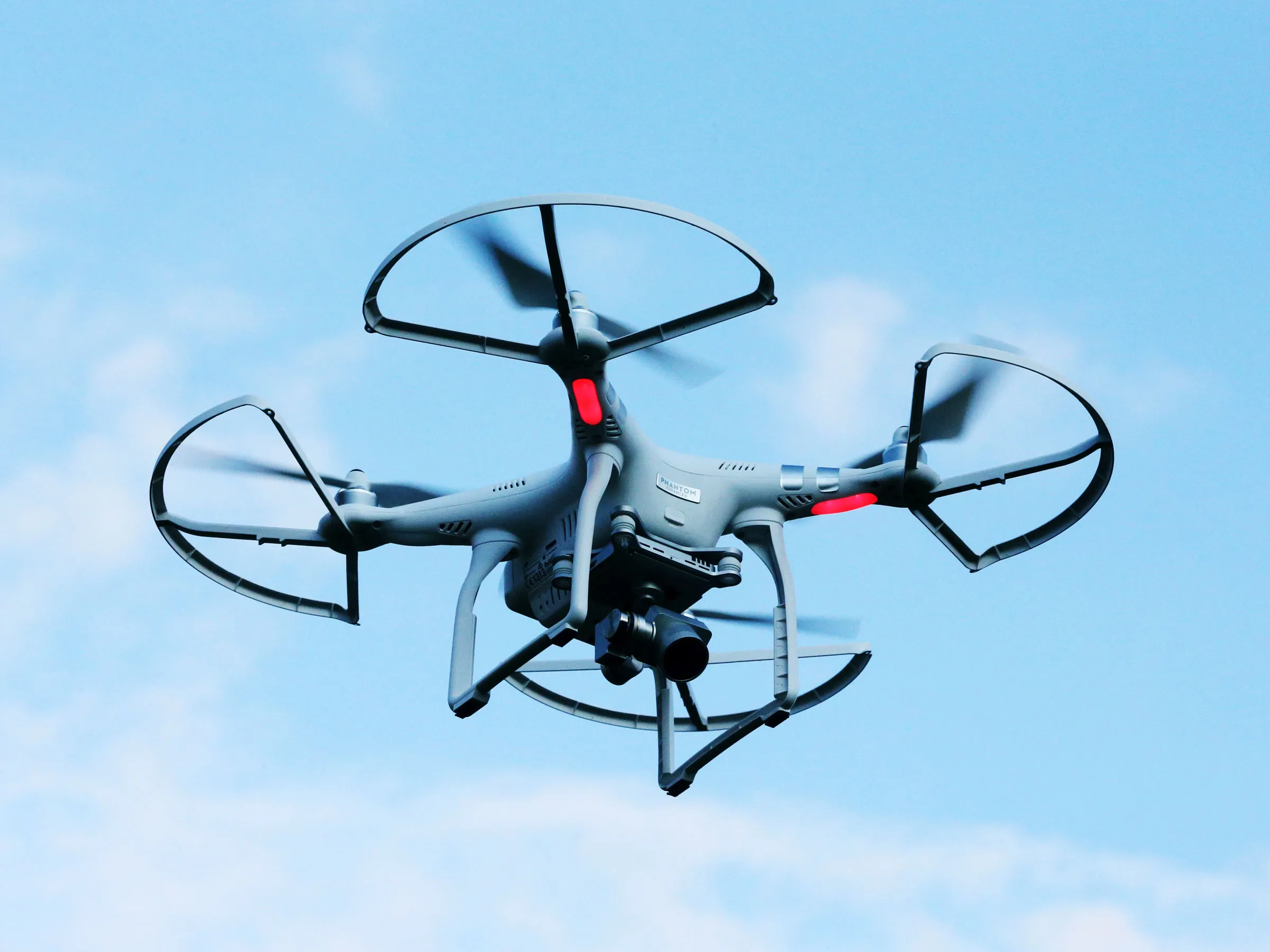 Drone delivery has emerged as a cutting-edge technology with the potential to revolutionize how goods are transported. This article explores the future of drone delivery and delves into its benefits, challenges, technological advances, regulation and safety, commercial applications, environmental impact, and future trends.
Let's take a closer look at this exciting field and envision what lies ahead.
What is Drone Delivery?
Drone delivery refers to using unmanned aerial vehicles (UAVs) to transport packages, goods, or medical supplies from one location to another. These drones have advanced navigation systems and sensors to ensure precise delivery.
Benefits of Drone Delivery
Drone delivery offers several compelling advantages. Firstly, it enables faster and more efficient delivery, particularly in areas with limited infrastructure. Drones can bypass traffic congestion and reach remote locations, reducing delivery times significantly. Moreover, they can operate 24/7, enhancing convenience for businesses and customers.
Secondly, drone delivery has the potential to reduce delivery costs. By eliminating the need for human drivers, companies can save on labour expenses. Further, drones require less fuel and produce fewer emissions, contributing to a more sustainable and environmentally friendly delivery system.
Challenges of Drone Delivery
While the future of drone delivery looks promising, several challenges need to be addressed. Safety concerns, such as mid-air collisions and accidents, must be carefully managed. Privacy and security issues also arise, as drones can capture images and collect data during their operations. Regulatory frameworks need to be established to ensure responsible and safe drone usage.
Current State of Drone Delivery
Although still in its early stages, drone delivery has already seen successful pilot programs and commercial applications. Companies like Amazon and UPS have tested drone delivery systems, showcasing the potential of this technology. The drone delivery system implemented by Meituan, a Chinese delivery giant, in the bustling city of Shenzhen, is revolutionizing urban life there. However, widespread adoption is hindered by regulatory hurdles, technological limitations, and public acceptance.
Technological Advances in Drone Delivery
The future of drone delivery will witness significant technological advancements. Improved battery life, increased payload capacity, and enhanced navigation systems will enable drones to cover longer distances and carry heavier loads. Artificial intelligence and machine learning algorithms will optimize routes and enhance delivery efficiency. Moreover, the development of autonomous drones will reduce reliance on human operators.
Regulation and Safety
To ensure safe and responsible drone delivery, robust regulations must be implemented. Governments worldwide are working to establish guidelines for drone operations, including flight restrictions, licensing requirements, and privacy protection. Collaborative efforts between regulatory bodies, industry stakeholders, and communities are crucial to create a framework that fosters the growth of drone delivery while addressing safety concerns.
Commercial Applications of Drone Delivery
Drone delivery opens up new possibilities across various industries. Beyond retail, drones can be utilized for medical supply transport in remote areas or during emergencies. They can facilitate rapid response in disaster zones, delivering essential aid and resources. Additionally, drones can potentially revolutionize the food delivery industry by offering efficient and contactless delivery options.
Environmental Impact
Drone delivery can contribute to a greener future. With their electric propulsion systems, drones produce minimal emissions compared to traditional delivery methods. By replacing gas-powered vehicles, drone delivery can help reduce air pollution and mitigate the carbon footprint associated with transportation. It presents an opportunity to create a more sustainable and environmentally conscious logistics system.
Future Trends in Drone Delivery
Looking ahead, the future of drone delivery is promising. Advancements in drone technology, coupled with evolving regulations, will pave the way for expanded drone operations. We can anticipate an increase in the scale and scope of drone delivery networks, covering larger areas and serving a broader range of industries. As the technology matures, we may witness autonomous swarm deliveries, where multiple drones work together to accomplish complex tasks efficiently.
Wrapping Up
The future of drone delivery holds immense potential to transform the way goods are transported. It promises faster, more efficient, and environmentally friendly delivery options. However, challenges related to safety, regulations, and public acceptance need to be addressed for widespread adoption. With ongoing technological advancements and collaborative efforts among stakeholders, we can envision a future where drones seamlessly integrate into our daily lives, enhancing logistics and benefiting various industries.
---
FAQs
Q1: Are drones already being used for delivery?
Yes, several companies have conducted successful pilot programs for drone delivery. However, widespread adoption is still in progress due to regulatory and technological considerations.
Q2: What are the safety concerns associated with drone delivery?
Safety concerns include mid-air collisions, accidents during landing or takeoff, and potential risks to people and property on the ground. Regulatory frameworks aim to address these concerns.
Q3: How can drone delivery benefit the healthcare industry?
Drone delivery can facilitate the transport of medical supplies to remote areas, improving access to essential healthcare resources, especially during emergencies or in underserved regions.
Q4: Will drones replace traditional delivery methods entirely?
While drones offer unique advantages, they are unlikely to replace traditional delivery methods entirely. Instead, they will complement existing systems, especially in remote or time-sensitive scenarios.
Q5: How can drones contribute to environmental sustainability?
Drones produce fewer emissions compared to traditional delivery vehicles, reducing air pollution. By adopting drone delivery, we can contribute to a greener and more sustainable logistics ecosystem.
Moto G82 5G Set To Debut in India On June 7
The Moto G82 is a new smartphone from the Moto G family, launched by Lenovo. The design of this smartphone is similar to that of the previously released Moto G smartphones, such as the Moto G52 and even the Moto G71.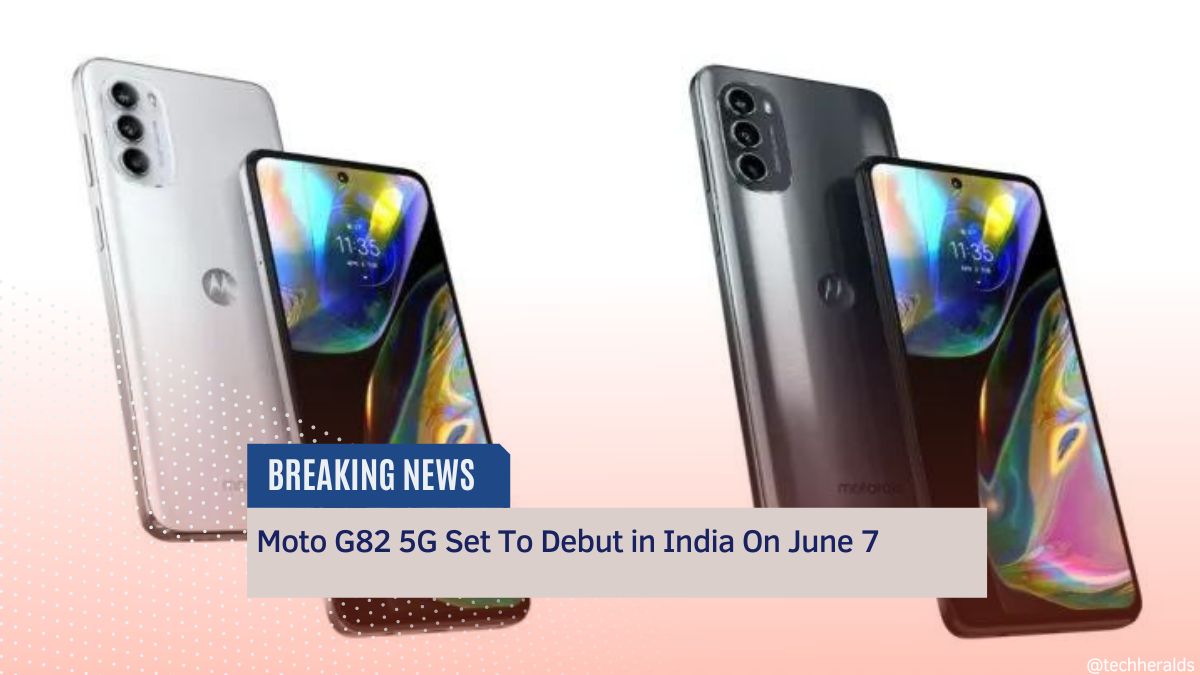 Motorola, a technology company, now owned by Lenovo, has introduced a new smartphone for customers in India. Following the earlier introduction of the Moto E32s in the country, Motorola has now announced to release of the Moto G82. In addition to confirming that it will release the phone on June 7 and disclosing a number of its specifications, Motorola has said that it will make an appearance at a launch event for this device.
The company tweeted the news on its official Twitter account, saying that it would have a "flagship" 120Hz pOLED display and a 50MP OIS camera, which are firsts for the country. In addition to this, Flipkart has created a particular webpage for the phone, which includes practically all of the device's specifications. Additionally, Flipkart and Reliance Digital will be selling the phone.
The Moto G82 is a new smartphone from the Moto G family, launched by Lenovo. The design of this smartphone is similar to that of the previously released Moto G smartphones, such as the Moto G52 and even the Moto G71. It will be available in Meteorite Gray and White Lily colours. Additionally, it is the lightest and has a minor bulk compared to other smartphones!
The phone features an edge-to-edge display with a punch hole located in its centre and a refresh rate of 120Hz. It has a 6.6-inch screen size and uses 10-bit pOLED technology to create its display, including DC Dimming functionality, protection against blue light, and a touch sampling rate of 360Hz.
The chipset in question is the Snapdragon 695, which is also used by the Redmi Note 11 Pro+ and Realme 9 Pro smartphones; this model comes with up to 8 gigabytes of random access memory (RAM) and 128 gigabytes of storage space.
This phone was first introduced in Europe precisely one month ago to refresh your memory. Look into what to anticipate happening at this event and what features you can expect from this new model. Look into what exactly you can expect to happen when it gets here.
Moto G82 Specifications
The phone features an edge-to-edge display with a punch hole located in its centre and a refresh rate of 120Hz. It has a 6.6-inch screen size and uses 10-bit pOLED technology to create its display, including DC Dimming functionality, protection against blue light, and a touch sampling rate of 360Hz.
The chipset in question is the Snapdragon 695, which is also used by the Redmi Note 11 Pro+ and Realme 9 Pro smartphones; this model comes with up to 8 gigabytes of random access memory (RAM) and 128 gigabytes of storage space.
Camera
The Moto G82 is a smartphone with a triple rear camera configuration. The primary shooter on the Moto G82 has a resolution of 50 megapixels, while the ultra-wide-angle lens has 8 megapixels, and the macro lens has 2 megapixels. As for the front cameras, they have a resolution of 16 megapixels each.
Price
The pricing of the Moto G82 is currently listed at €329.99. (approx Rs 26,500). On the other hand, we may anticipate that it will debut in the nation at a more affordable price range.