The Volkswagen Virtus Hinted To Go Up On Sale In May 2022
The Volkswagen Virtus is built on the same platform as the Skoda Slavia, so it's no surprise that it has similar specifications.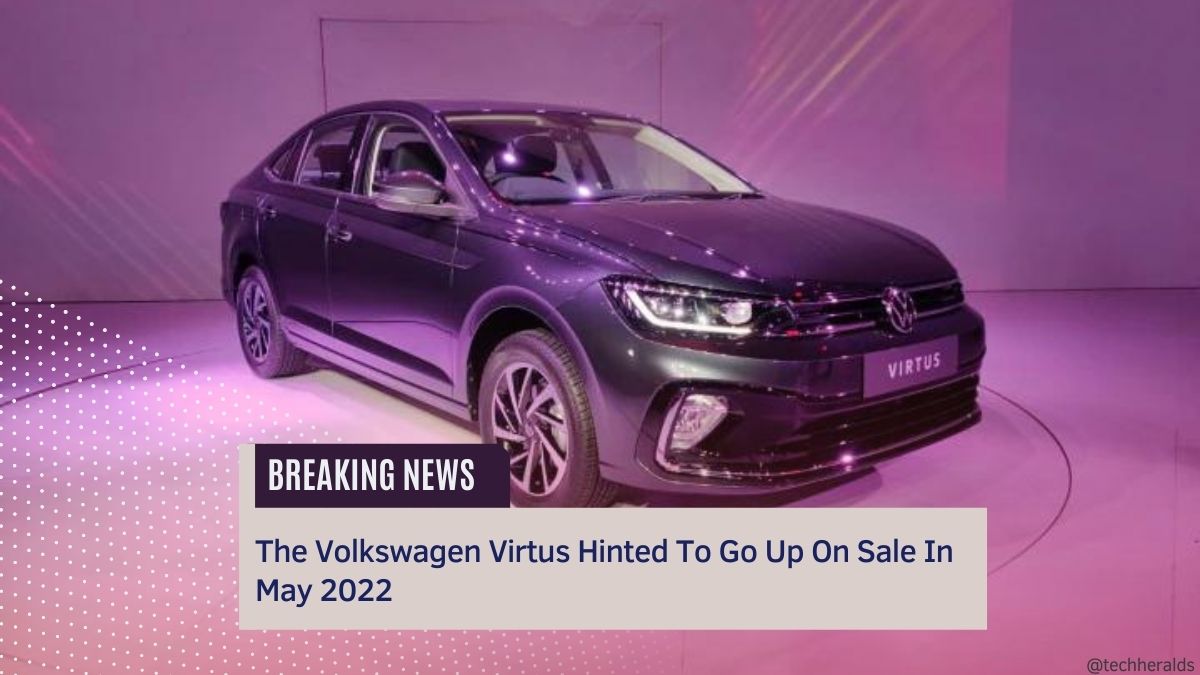 The Volkswagen Virtus made its way to India and speculations suggest that the car will go up on sale somewhere around May 2022. Virtus, the successor of Vento sedan launched in 2010, is the uplifted version of VW Virtus global model specifically built for India.
The Virtus is stunning from every angle. The most striking feature of the vehicle is its crisp and dynamic appearance. The grille and bumper are accented with elegant chrome, and the headlights are wrapped around the vehicle's whole front end. When seen from the side, it becomes obvious that its silhouette, glasshouse and shoulder line are almost identical to those of Volkswagen's other popular car, the Skoda Slavia. The rear of the redesigned Virtus is distinguished by the presence of wraparound taillights and a well-thought-out bumper design.
The Virtus 1.5's top-of-the-line configuration will be referred to as the Virtus GT, comparable to the Taigun GT. The exterior of the Virtus GT is heavily accented with black trim, which helps it outshine the rest of the line-up.
Volkswagen has also given consumers a wide range of colour options for their new car: Rising Candy White, Blue Metallic, Carbon Steel Grey, Wild Cherry Red, Reflex Silver and Curcuma Yellow.
The Volkswagen Virtus Specifications
The Volkswagen Virtus is built on the same platform as the Skoda Slavia, so it's no surprise that it has similar specifications. In terms of size, it's one of the largest sedans in its segment with dimensions of 4,561mm in length, 1,752mm in width, 1,507mm in height, and a wheelbase of 2,651mm. It features a 521-litre boot.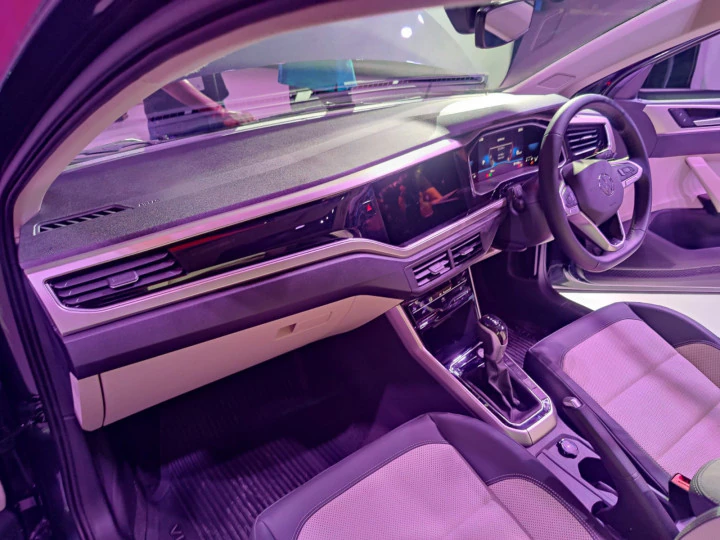 Also Read: Realme Reveals Realme S100 Smartwatch And N100 Earbuds In India, Check Out Price And Specifications
The Volkswagen Virtus' interior design is contemporary and eerily similar to that of the Taigun: from its laminated dashboard befitted with an integrated 10-inch touchscreen infotainment system to Volkswagen's new three-spoke steering wheel. The GT model has red accents on the dashboard, red stitching and aluminium pedals to add a sporty touch.
The Virtus cabin is well-equipped, with a standard 8-inch digital instrument cluster, a wireless phone charger, and connected car features. An eight-speaker audio system, automatic climate control, ventilated front seats, ambient lighting, and a cooled glovebox are all included as standard. Automatic headlamps and wipers, a tyre pressure monitor, six airbags, electronic stability control, hill-hold control, and five adjustable headrests are all included as standard.
What's Under The Bonnet Of The Volkswagen Virtus?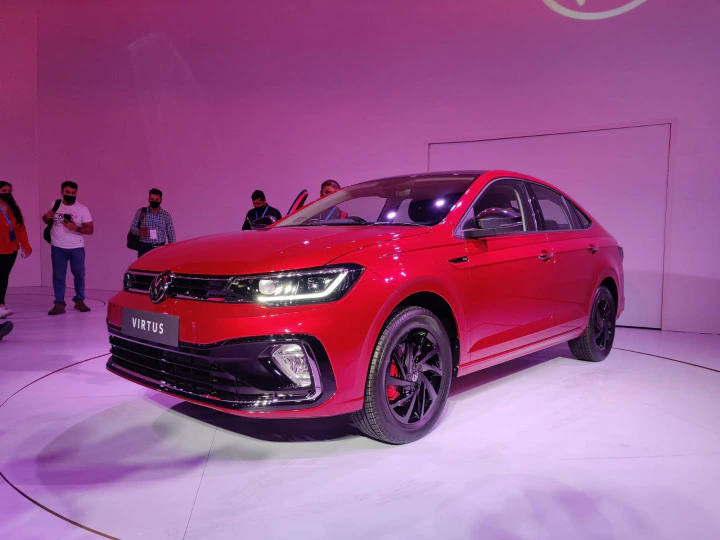 The new Virtus comes with two turbo petrol engine choices: a 1.5-litre four-cylinder TSI that produces 150hp and 250Nm (Performance Line models only) and a one-litre three-cylinder engine that produces 115hp and 175Nm (DynamicLine models). A 6-speed manual transmission is included as standard with both engines. A torque converter with 6 or 7 speeds for the 1.0 TSI and a dual-clutch transmission with 7 or 8 speeds for the 1.5 TSI are available options
While Volkswagen may have missed the mark by releasing a midsize sedan, according to Jato Dynamics, it did so at a time when SUVs are becoming more popular. The German automaker introduced the sedan when SUVs had 38 per cent of the Indian auto market by 2021. In the previous three years, more than 22 new SUVs have been introduced in the country.
Also Read: Redmi Note 11 Pro+ And Note 11 Pro Launched In India, See Specifications And Pricing
In an interview with BloombergQuint, Ashish Gupta, brand director at Volkswagen Passenger Cars India, "When seen from an Indian viewpoint, the sedan body type accounts for 12-14 per cent of the whole market." "There is a market," he said. "In addition, the luxury mid-size car sector, into which we are introducing the Virtus, has been devoid of variety and options for buyers."
It's predicted that Volkswagen will introduce the redesigned Virtus in the coming months. As soon as it goes on sale, it will face up against its sib, the Skoda Slavia, and the rest of the midsize sedan class, which includes the Honda City, Hyundai Verna, and Maruti Suzuki Ciaz.
How is Digital World Changing in 2023? An Analysis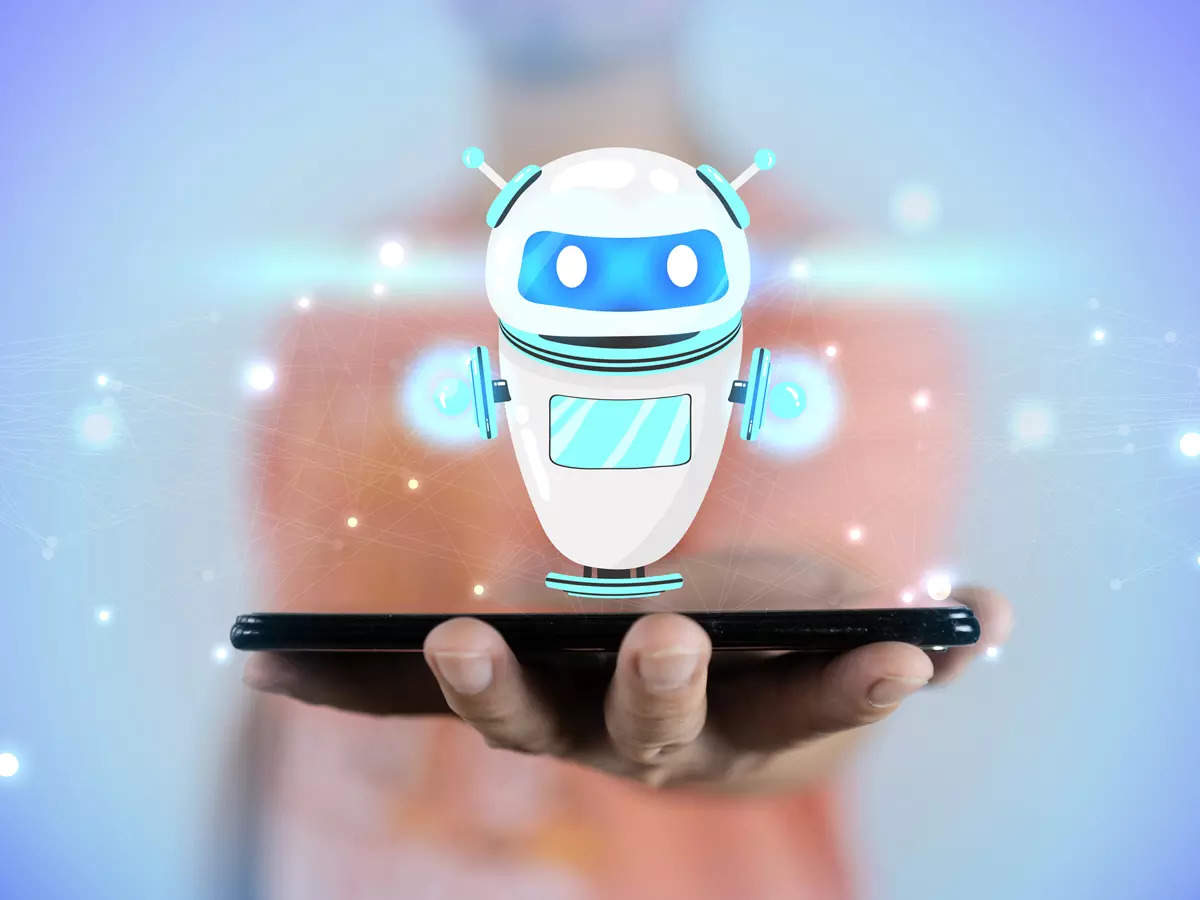 The rapid pace of technological advancements has brought us to the intriguing intersection of another year, 2023. In the digital world, this year is proving to be a pivotal juncture as innovations, trends, and shifts reshape how we interact, work, and perceive the world around us.
This article embarks on a comprehensive journey of how the digital world is changing in 2023 – an analysis that navigates through the various dimensions of technological evolution.
The Evolution of Augmented Reality: Enhancing the Senses
One of the most captivating transformations in the digital landscape is the evolution of augmented reality (AR). The convergence of enhanced hardware capabilities and sophisticated software algorithms has empowered AR to transcend its previous limitations. In 2023, AR is making its mark beyond entertainment and gaming, infiltrating industries like healthcare, education, and even day-to-day tasks.
Imagine medical students participating in virtual surgeries through AR simulations or architects collaborating on 3D building designs with which they can interact in real-time. This marks a monumental shift in how we perceive and manipulate digital information, merging it seamlessly with the physical world.
The Unleashed Power of 5G: A Hyperconnected Reality
The advent of 5G technology has been on the horizon for years, and 2023 is finally the year when it's stepping into the spotlight. This ultra-fast, low-latency network revolutionises connectivity, giving rise to a hyperconnected reality. With speeds that can dwarf the best home Wi-Fi connections, 5G is enabling uninterrupted video streaming, seamless IoT integration, and real-time collaboration on an unprecedented scale.
Industries that heavily rely on instant data transmission are witnessing a radical transformation. How the digital world is changing in 2023 is intricately tied to 5G's capabilities, as remote medical consultations, immersive virtual experiences, and autonomous vehicles become tangible realities.
The Renaissance of NFTs: Digital Ownership Redefined
How digital world is changing in 2023? An Analysis
2023 has also ushered in the renaissance of Non-Fungible Tokens (NFTs), sparking a paradigm shift in how we perceive ownership in the digital realm. NFTs, built upon blockchain technology, have enabled creators to tokenize their digital assets – artwork, music, or even tweets. This has opened up new avenues for artists to monetize their work directly, bypassing traditional intermediaries.
The NFT craze has paved the way for a deeper exploration of the digital economy, challenging conventional notions of ownership and copyright. The potential ramifications of this trend stretch far beyond the art world, raising questions about the authenticity and uniqueness of digital goods.
Reshaping E-Commerce: Metaverse Shopping
E-commerce has been steadily evolving, and in 2023, it's embracing the concept of the metaverse. The metaverse, a collective virtual shared space, is bridging the gap between online shopping and real-world experiences. Imagine trying on virtual clothing before making a purchase or walking through a digital mall with friends, all from the comfort of your home.
This metamorphosis in the e-commerce landscape underlines how the digital world is changing in 2023. Brands now focus on creating immersive, interactive shopping environments that blur the lines between the physical and digital realms. Virtual reality-powered showrooms and augmented reality "try before you buy" features are just a few examples of this transformation.
The AI Revolution: Contextual and Conversational
Artificial Intelligence (AI) is no stranger to the digital world, but in 2023, it's taking centre stage in more contextual and conversational ways. Natural language processing (NLP) and sentiment analysis propel AI-driven chatbots and virtual assistants to understand and respond more accurately to human emotions and intentions.
This shift is altering the dynamics of customer service, personalizing user experiences, and even revolutionizing content creation. AI-generated content is becoming more coherent and tailored, blurring the line between human and machine-generated work. The digital world's landscape is evolving as AI becomes integral to our daily interactions.
Conclusion
In conclusion, how the digital world is changing in 2023 is a multi-faceted analysis reflecting technological evolution's profound impact. From augmented reality breaking barriers between the physical and digital realms to 5G's hyperconnected reality and the redefinition of ownership through NFTs, each aspect signifies a paradigm shift. The metaverse's influence on e-commerce and AI's more conversational presence further emphasize the ongoing transformation.
The journey into 2023 is not just about technological advancements; it's about how they alter our lifestyles, perceptions, and interactions. As we navigate this ever-changing landscape, one thing remains clear: the digital world of 2023 is an intricate tapestry woven with innovation, connectivity, and endless possibilities.
IoT in Education: Transforming the Learning Experience
Introduction to IoT in Education
The Internet of Things (IoT) has been a game-changer in many sectors, and education is no exception. But what exactly is IoT, and how does it play a role in education?
The Concept of IoT
IoT refers to the network of physical devices, vehicles, appliances, and other items embedded with sensors, software, and network connectivity, which enables these objects to connect and exchange data. This interconnection via the Internet results in efficiency improvements, economic benefits, and reduced human exertions.
The Role of IoT in Education
In the context of education, IoT can provide a multitude of benefits, from enhancing the learning experience to improving administrative efficiency. It can transform traditional classrooms into dynamic learning environments, fostering collaboration, creativity, and critical thinking.
The Impact of IoT on Learning Experience
IoT has the potential to revolutionize the learning experience in several ways.
Personalized Learning
IoT enables personalized learning by allowing educators to tailor instruction based on individual learning styles and pace. For instance, smart devices can track a student's performance and adapt content to meet their specific needs.
Enhanced Engagement
IoT can also enhance student engagement. Interactive whiteboards, digital textbooks, and virtual reality experiences make learning more interactive and engaging, thereby increasing student participation and retention.
Real-Time Monitoring
With IoT, teachers can monitor student progress in real-time, providing immediate feedback and adjusting lessons as needed. This real-time monitoring can help identify struggling students early and provide them with the necessary support.
Applications of IoT in Education
IoT has numerous applications in the education sector.
Smart Classrooms
Smart classrooms equipped with IoT devices can foster a more interactive and engaging learning environment. For example, smart boards can connect to the Internet and display multimedia content, enhancing the teaching and learning process.
Safety and Security
IoT can also enhance safety and security in schools. For instance, connected cameras can monitor school premises, while smart ID cards can track student and staff movements.
Administrative Efficiency
IoT can streamline administrative tasks, such as attendance tracking and energy management, freeing up time for educators to focus on teaching.
Challenges and Solutions
Despite its potential, IoT in education also presents challenges.
Privacy and Security Concerns
Privacy and security are major concerns in IoT. Schools must ensure that student data is protected and that IoT devices are secure from cyber threats. This requires robust security measures and clear privacy policies.
Infrastructure and Investment
Implementing IoT requires significant investment in infrastructure and technology. Schools must also ensure that staff are trained to use and maintain IoT devices.
The Future of IoT in Education
Despite these challenges, the future of IoT in education looks promising. As technology continues to evolve, we can expect to see even more innovative applications of IoT in the classroom, further transforming the learning experience.
Conclusion
IoT is undoubtedly transforming education, enhancing the learning experience, and streamlining administrative tasks. While challenges exist, the potential benefits of IoT in education make it a worthwhile investment. Investing in IoT stocks offers a world of opportunities.
FAQs
What is IoT?

IoT, or Internet of Things, refers to the network of physical devices connected via the Internet, enabling these devices to exchange data.
How does IoT enhance the learning experience?

IoT enhances the learning experience by enabling personalized learning, enhancing student engagement, and allowing real-time monitoring of student progress.
What are some applications of IoT in education?

IoT has numerous applications in education, including smart classrooms, safety and security, and administrative efficiency.
What are the challenges of implementing IoT in education?

Challenges of implementing IoT in education include privacy and security concerns and the need for significant investment in infrastructure and technology.
What is the future of IoT in education?

The future of IoT in education looks promising, with the potential for even more innovative applications as technology continues to evolve.
How Augmented Reality Impacts Branding?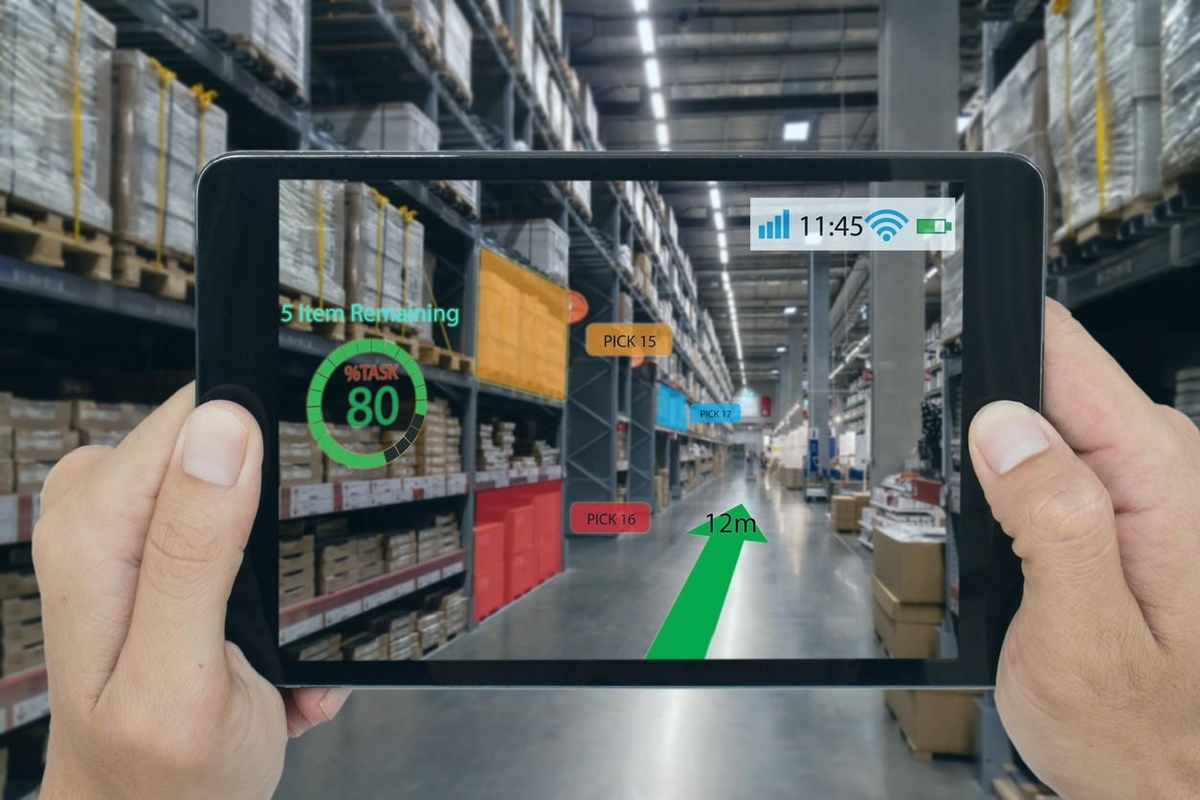 In recent years, augmented reality (AR) has emerged as a groundbreaking technology that can potentially transform various industries.
One such industry that AR has greatly influenced is branding. Augmented reality offers unique and immersive experiences that enable brands to engage with their audience innovatively. By blending the digital and physical worlds, AR has opened up new avenues for brand storytelling, product visualization, and customer interaction.
In this article, we will explore the impact of augmented reality on branding and how it has revolutionized how businesses connect with their customers.
The Rise of Augmented Reality in Branding
Augmented reality has gained significant traction in recent years, primarily due to advancements in mobile technology and the widespread adoption of smartphones. With millions of people carrying AR-capable devices in their pockets, brands have recognized the potential to leverage this technology to create unique and memorable experiences.
One of the critical advantages of augmented reality in branding is its ability to bridge the gap between the physical and digital worlds. By overlaying virtual elements in the real environment, AR allows brands to showcase their products or services in an interactive and immersive manner. This not only captures the attention of consumers but also enhances their overall brand experience.
Enhancing Brand Storytelling
Brands constantly seek new ways to tell their story and create a lasting impression on consumers. Augmented reality provides a powerful tool to achieve this goal. With AR, brands can bring their narratives to life by creating interactive and engaging experiences.
For instance, a fashion brand could use AR to allow customers to virtually try on clothes before making a purchase. This not only adds an element of fun but also helps customers make more informed buying decisions. By enabling users to visualize themselves wearing the brand's products, augmented reality strengthens the emotional connection between the consumer and the brand.
Immersive Product Visualization
Augmented reality has revolutionized the way products are visualized in branding. Traditionally, consumers had to rely on static images or videos to understand how a product would look or function in real life. However, with AR, brands can offer customers a truly immersive and interactive product visualization experience.
Imagine seeing how a piece of furniture would look in your living room before buying it or virtually test-driving a car without leaving your home. Augmented reality makes these scenarios possible, enabling brands to give potential customers a realistic and personalized preview of their offerings.
By allowing consumers to engage with products in a virtual space, AR not only enhances their shopping experience but also increases their confidence in making purchase decisions.
Augmented Reality in Retail Spaces
Physical retail spaces have faced increasing challenges due to the rise of e-commerce. To stay competitive, brands must provide unique experiences that cannot be replicated online. Augmented reality offers a solution by transforming physical stores into interactive and engaging environments.
By integrating AR into retail spaces, brands can offer customers a blend of the physical and digital worlds. For example, a cosmetic brand could use AR mirrors that overlay virtual makeup on the customer's face, allowing them to experiment with different looks without actually applying any products. This not only enhances the shopping experience but also encourages customers to spend more time in-store, leading to increased brand exposure and potential sales.
Interactive Brand Activations and Marketing Campaigns
Augmented reality provides brands a powerful tool to create interactive and memorable brand activations and marketing campaigns. By leveraging AR technology, brands can captivate their audience in unique and unexpected ways.
For instance, a food and beverage brand could launch an AR-powered game where customers can scan product packaging to unlock virtual characters or win prizes. This not only generates excitement and engagement but also increases brand awareness and encourages repeat purchases.
By integrating augmented reality into their marketing strategies, brands can stand out in a crowded marketplace and leave a lasting impression on their target audience.
The Future of Augmented Reality in Branding
As technology advances, augmented reality is expected to play an even more significant role in branding. With the introduction of wearable AR devices such as smart glasses, the possibilities for immersive brand experiences are boundless.
In the future, we can expect to see brands leveraging AR to create personalized and context-aware experiences. Imagine receiving tailored product recommendations based on your location or having virtual shopping assistants guide you through a store. Augmented reality will continue to blur the lines between the physical and digital worlds, transforming the way brands engage with consumers.
Conclusion
Augmented reality has undoubtedly made a profound impact on branding. By harnessing the power of AR, brands can enhance their storytelling, provide immersive product visualization, transform retail spaces, and create interactive marketing campaigns. With the ability to blend the physical and digital worlds, augmented reality offers a unique and engaging way for brands to connect with their audience.
As technology advances, we can expect to see even more innovative and creative applications of AR in branding, shaping the future of consumer experiences. So, embrace the power of augmented reality and unlock the full potential of your brand. How augmented reality impacts branding? It opens up a world of endless possibilities.