Leaks Reveal iPad Air 5 Will Boast The Powerful M1 Chipset, 128GB ROM And 8GB RAM
The iPad Air 5 also features a slim and light design that Apple claims "delivers an experience unlike any other when combined with the Liquid Retina display and landscape stereo speakers."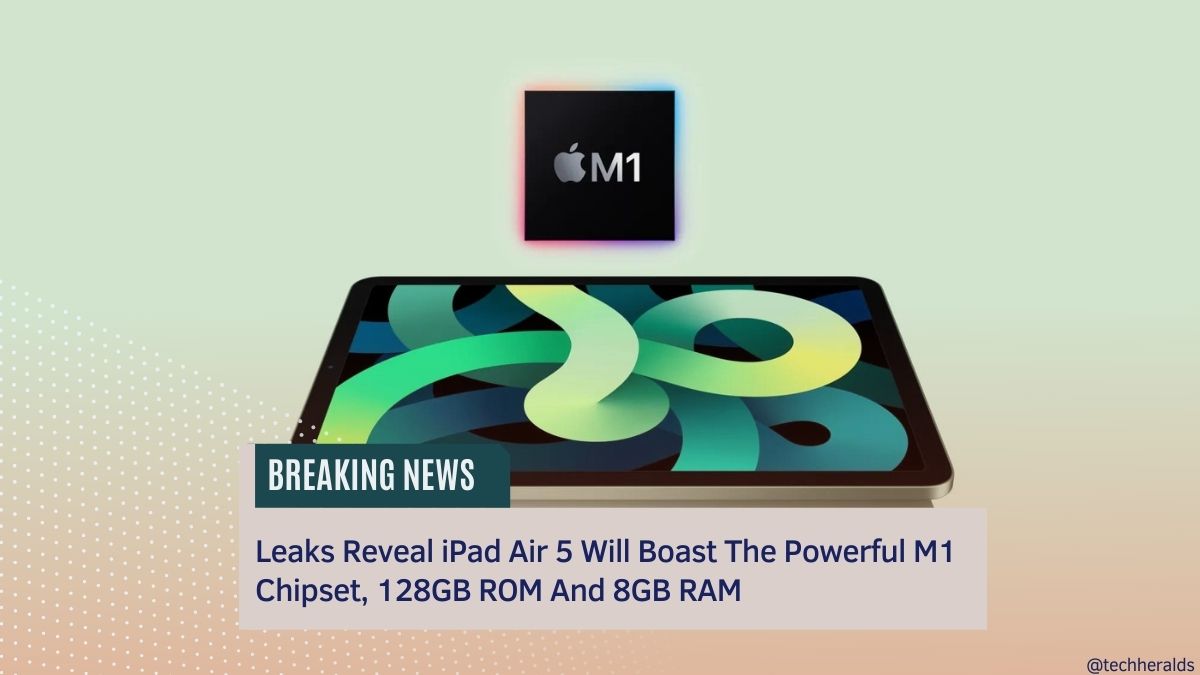 Apple is finally upgrading the iPad Air 4 with a new model that's been a long time coming. The iPad Air 5 is here, and it's powered by the A15 Bionic chip and Apple's M1 chip, which are also included in the more costly iPad Pro line. The iPad Air 5 has an updated design, including a larger screen with slimmer bezels and unique colors and finishes. The tablet's software has been updated to match its upgraded hardware, including a new Touch ID system built into the power button and an improved camera on the front of the device.
The iPad Air 5 is powered by Apple's latest A15 Bionic processor and supports 5G networks. It means that the tablet can connect to the fastest available cellular networks, which is ideal for using data-intensive apps wherever you go. It also has a 10.9-inch Retina display with True Tone technology, adjusting the color temperature based on ambient lighting conditions.
Also Read: Asus 8z Goes On Sale In India Today, Boasts Dual Cameras, Fast Performing Chipset And Much More
The iPad Air 5 and the iPad Air 4 have almost the same design. Along with that, the iPad Air 5 has retained a 10.9-inch Liquid Retina display with 3.8 million pixels and 500 nits of brightness from its predecessor. You'll find other similarities between the two devices, such as True Tone technology, anti-reflective screen coating, and broad color range support for P3.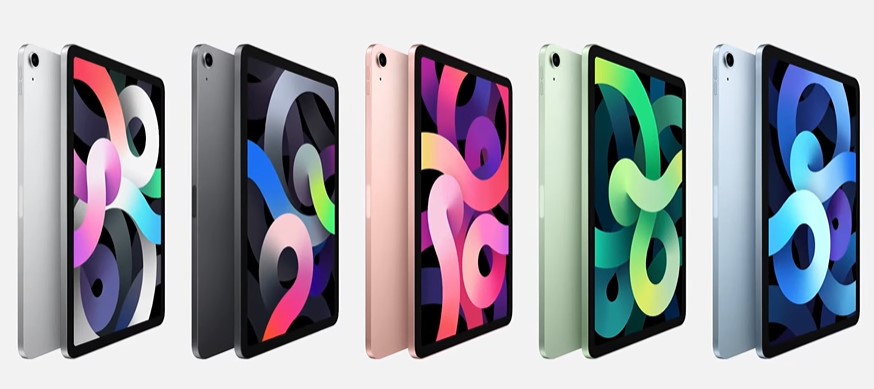 The iPad Air 5 also features a slim and light design that Apple claims "delivers an experience unlike any other when combined with the Liquid Retina display and landscape stereo speakers." It may be accessed using a Touch ID sensor, integrated into the top button like the previous Generation. The tablet has several upgrades over the previous model, including M1 processor performance and 5G connectivity, both of which users have been anticipating for some time now. According to Apple, their newest tablet can achieve peak rates of up to 3.5Gbps under optimal conditions. eSIM and WiFi 6 capabilities are also included as extras in this package.
Also Read: OnePlus 10 Leaked Picture Floats On Internet, Some Other Features Revealed Too
The iPad Air 5 Specifications
The iPad Air 5's most noticeable external change is the USB-C connector. This is identical to the port on the previous model, but it is now up to two times faster, allowing for data transfer speeds of up to 10Gbps. Moreover, a wide range of USB-C accessories, such as cameras, external storage, and displays with resolutions of up to 6K, can be connected to the iPad Air 5 through the port.
Other than that, the optics have also seen some improvements. The number of sensors on the back and front is still the same as before, but it now supports Center Stage technology. The 12MP ultrawide with Center Stage technology on the front of the camera intelligently detects your movement and keeps them in view as you move. If more participants join a video discussion, the camera recognizes this and seamlessly zooms out to accommodate them in the conversational space. In addition to recording 4K video and a 12-megapixel sensor, the iPad Air 5's rear sensor can also scan documents and create AR-related content.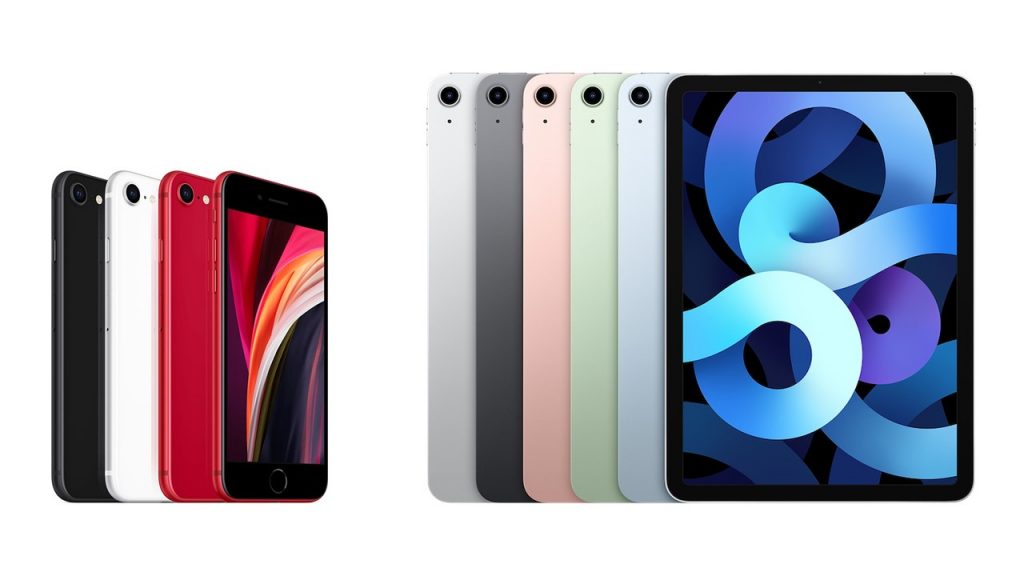 Also Read: Reliance Extends The Availability Of The Jio Phone Next To Offline Market, Check Price And Specifications
The tablet will be available in various colors, including pink, purple, and blue, in addition to space grey and starlight. There are a variety of accessories that can be purchased separately for $129, including the Apple Pencil 2nd Generation, which is compatible with the device. There will be more than 30 languages supported by the Magic Keyboard when it launches in black or white for $299. In addition to being available in several areas, there is also the Smart Keyboard Folio for $179 and a more basic Smart Folio for $79 that comes in a variety of colours such as white, electric orange, dark cherry, English lavender, and sea blue.
The iPad Air 5 Price
Apple revealed the iPad Air 5 will be available for pre-order on Friday, March 11. The iPad Air 5 is an excellent choice for college students, instructors, staff, and homeschool teachers of all grade levels. The 64GB WiFi-only model will retail for $549, while WiFi + Cellular models will begin at $749 in the United States. The iPad Air 5 comes with two new accessories: the Smart Keyboard Folio and the Magic Keyboard. The Smart Keyboard Folio can be had for $159, while the Magic Keyboard is available for $279. For drawing/writing tasks, Apple also released a second-generation Apple Pencil, available for $119.
The Vivo T1 Pro 5G Debuts In India, See Specs
VIVO has launched two new T-series smartphones, the Vivo T1 Pro 5G and the Vivo T1 44W, to complement the existing lineup.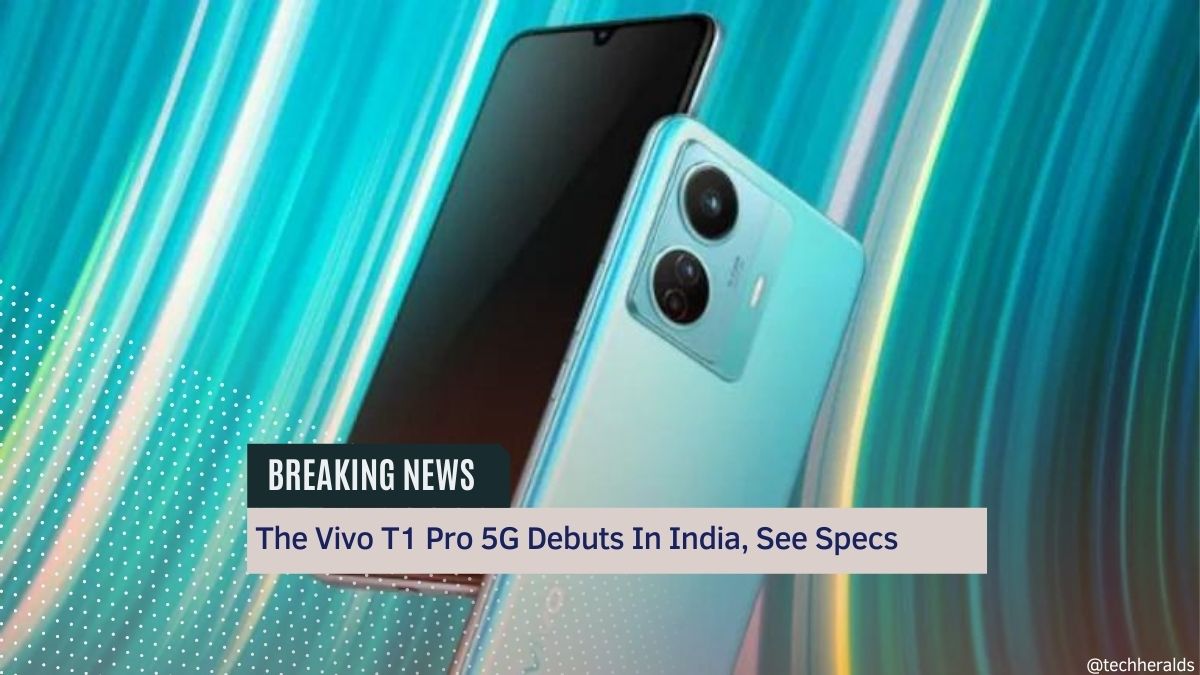 The Chinese mobile phone manufacturer best renowned for its cameras, VIVO, has introduced the Vivo T1 Pro 5G in India. The company earlier said that it would raise the Vivo T1 5G, powered by the Qualcomm Snapdragon 695 SoC, in India.

VIVO has launched two new T-series smartphones, the Vivo T1 Pro 5G and the Vivo T1 44W, to complement the existing lineup. The T1 Pro 5G is the highest-end model in the series, while the T1 44W is the lowest-cost model. It comes with a 90Hz AMOLED display, the Qualcomm Snapdragon 778G processor, triple back cameras with 64 megapixels, and the capability for 66W rapid charging.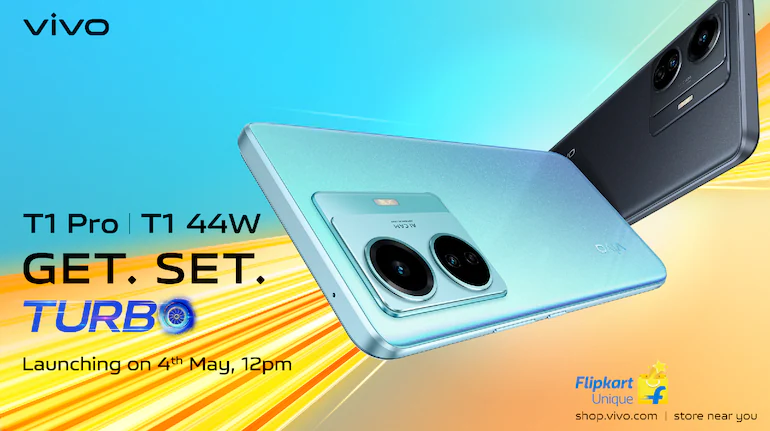 The Vivi T1 Pro 5G, on the other hand, has a display with a punch hole in the middle. It is similar to the iQOO Z Pro 5G, a sub-brand of Vivo and is also available in 5G. A protruding camera module with a pair of camera rings rests on the device's rear panel. The primary camera is located on the top, while the other two cameras are on the second ring.

The device has a 6.44-inch AMOLED screen with an FH+ resolution, 90Hz refresh rate, 180Hz touch sampling rate, HDR10+ support, and 1,300 nits of peak brightness capabilities. Let's have a detailed look at the specifications of the T1 Pro 5G variant.
Also Read: OnePlus Nord 2T 5G Spotted At Certification Sites, May Launch Soon
The Vivo T1 Pro 5G Specifications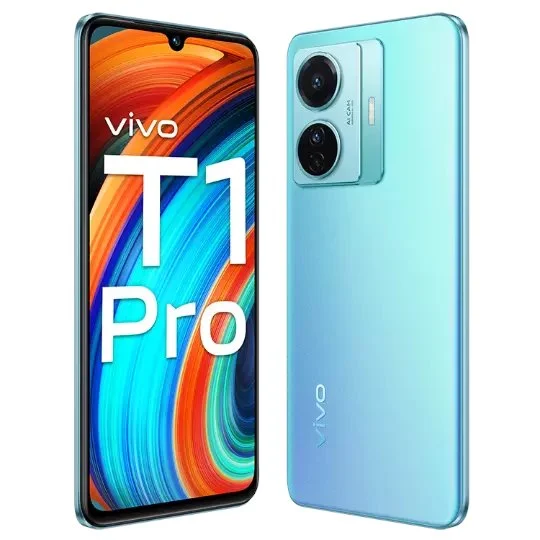 The Vivo T1 Pro 5G is a smartphone designed to be a power-user device, with the Snapdragon 778G being the most powerful Snapdragon 7-series processor from Qualcomm. The T1 Pro 5G has up to 8 GB of LPDDR4x RAM and 128 GB of UFS 2.2 storage, with the latter being the maximum.
The T1 Pro 5G starts with the Android 12 operating system, modified with the FunTouch OS 12 interface. It also features a battery with a capacity of 4,700mAh, which gets charged at 66W thanks to its FlashCharge technology. This fast charging technology charges the T1 Pro's battery to 50% capacity in only 18 minutes, according to Vivo. The gadget is also equipped with an Ultra Game Mode and an Ultra Mode so gamers can experience immersive gaming experiences when playing their favourite games on this device.
Also Read: The POCO M4 5G Launched In India, See Specs
Cameras
The Vivo T1 Pro 5G has many different cameras designed to capture photos and videos in different situations with different types of lighting (indoor/outdoor) or subjects (closeup/faraway).
The main camera on the phone's back camera configuration is a 64-megapixel lens, while the secondary camera is a 5-megapixel lens. An 8-megapixel ultrawide camera with a 117-degree field of view (FOV) and a 2-megapixel macro camera with a 4cm focal length are also included in the package.
The smartphone features a 16MP selfie camera under the punch-hole display on the front.
Other Features
The Vivo T1 Pro 5G comes with an under-display fingerprint sensor and a face unlock option for added security. The phone also has dual-SIM support, 5G, WiFi 802.11ac, Bluetooth 5.1, GPS, a USB-C connector, and a 3.5mm audio input, among other features.
Also Read: The Tecno Phantom X Debuts In India
The Vivo T1 Pro 5G Price
The Vivo T1 Pro 5G will be available starting May 7. It's priced at Rs 23,999 for 6 GB RAM + 128 GB storage and Rs 24,999 for 8 GB RAM + 128 GB storage.
The T1 Pro 5G comes in two different colours: Turbo Cyan and Turbo Black. It will be available for pre-order on May 5 via Flipkart and Vivo India's webshop if you're interested in getting one before its official release date.
If you buy the Vivo T1 Pro 5G through any of these sites, you can also avail of no-cost EMI or cashback up to Rs 2,500 on your SBI Bank credit card.
Also Read: The Nokia G21 Launched In India, See Specs And Price
OnePlus Nord 2T 5G Spotted At Certification Sites, May Launch Soon
the OnePlus Nord 2T 5G is expected to be unveiled sometime in May. However, there is no official confirmation yet. It will feature MediaTek Dimensity 1300.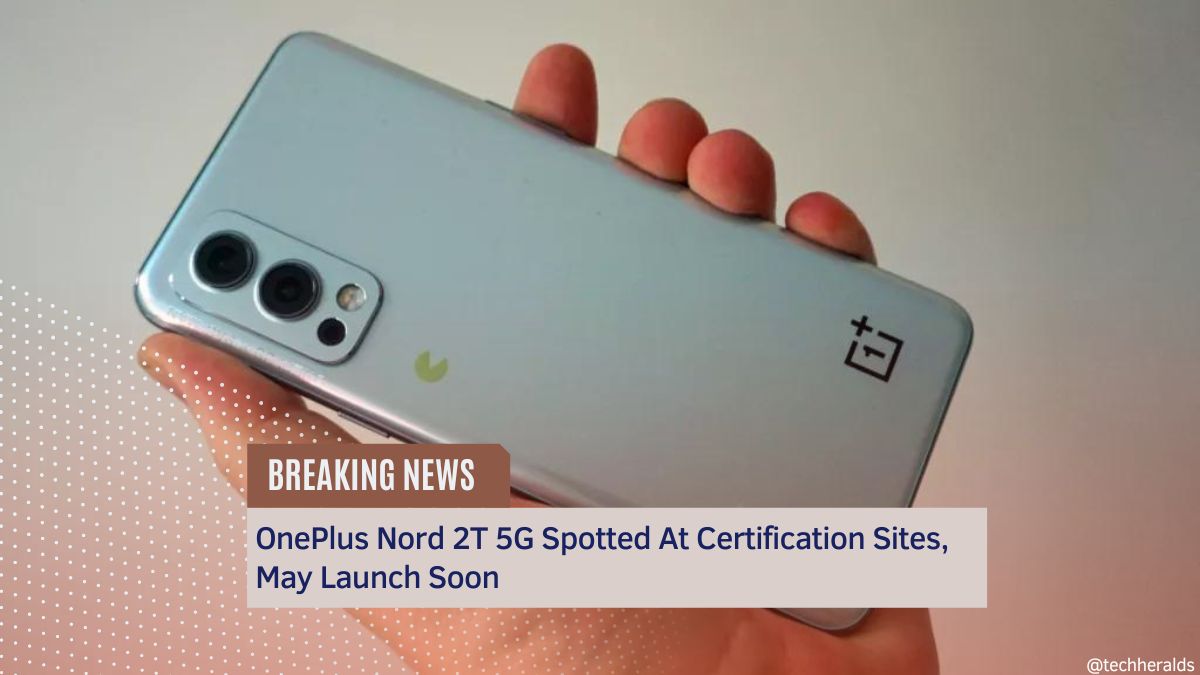 OnePlus is expected to launch multiple variants of the Nord series in the coming months, based on our first reports. After reports that suggested that a OnePlus Nord 2T 5G could arrive first, followed by a OnePlus Nord 3, we now have information about another phone in the series.
The OnePlus Nord 2T 5G has been spotted on the NBTC certification website, suggesting that it should launch soon. The listing does not offer any details about the phone's specifications or features, but it does show two different model numbers.
According to previous reports and leaks, the device could launch with the model number EB2101 and may use a Snapdragon 765G chipset. Rumours also suggested that it might offer up to 12GB of RAM and 256GB of storage. It will be an affordable alternative to the OnePlus 9R with some compromises in terms of performance and features.
According to recently leaked data from a tipster, the OnePlus Nord 2T 5G is expected to be unveiled sometime in May. However, there is no official confirmation yet. In addition, more details about the phone could surface in the coming weeks as we approach its launch date.
Nord 2T name was just verified when the device was discovered for the first time on TDRA, which is another certification website, earlier this month. Despite this, the device's model number CPH2399 has been validated by the NBTC listing. Notably, this model will be a somewhat improved version of the Nord 2.
Also Read: The POCO M4 5G Launched In India, See Specs
The OnePlus Nord 2T 5G Specifications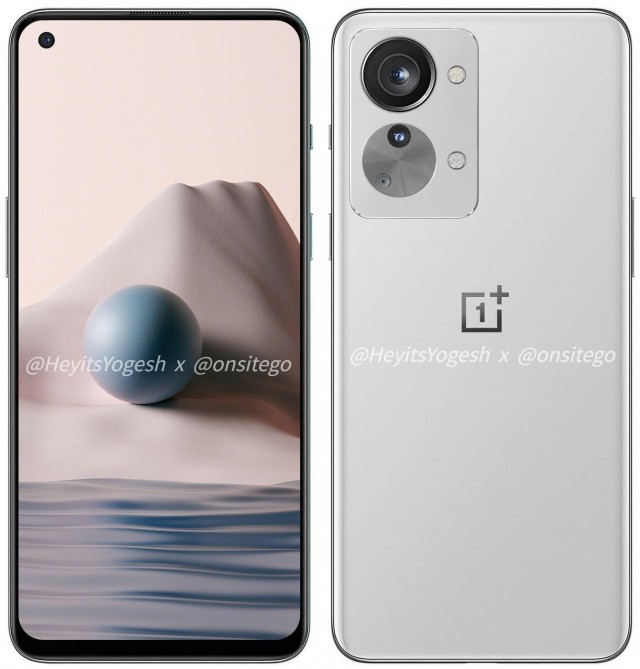 The Nord 2T will have a 6.43-inch flexible AMOLED display with a 90Hz refresh rate and Full HD+ resolution, according to the listing. It will also have a punch-hole cutout in one corner. The device should feature an octa-core MediaTek Dimensity 1300 processor and a Mali G77 graphics processor.
The OnePlus Nord 2T will feature a triple camera arrangement on the back. The main snapper will use a 50-megapixel Sony IMX766 sensor, combined with an 8-megapixel ultra-wide-angle lens and a 2-megapixel secondary camera. On the front of the smartphone are expected to be installed selfie cameras with 32 megapixels. The gadget will work under the control of the OxygenOS 12 operating system based on Android 12. Powering the device should be a massive 4,500mAh battery pack capable of rapid charging at 80W.
Also Read: The Tecno Phantom X Debuts In India
OnePlus has always been known for creating high-end smartphones that are easy on the wallet and easy to use. However, in recent years, the company has been preparing to transition from being a flagship brand to one that is accessible to all customers and employees.
One recent example of this was the introduction of the Oneplus Nord CE 2 Lite smartphone, which is available in the Indian market for less than Rs 20,000. Furthermore, the OnePlus roadmap for 2022 revealed that the smartphone company would introduce many smartphones this year, therefore terminating the exclusive agreement with Apple.
The company plans to continue its expansion into new markets such as India and China, where it will be available at brick-and-mortar stores such as Croma and Reliance Digital and online retailers such as Amazon India and Flipkart.
Also Read: The Nokia G21 Launched In India, See Specs And Price
CERT-In Detects Security Vulnerabilities In Chrome, Update Urgently
Successful exploitation of the newly discovered vulnerabilities in chrome may allow a remote attacker to execute malicious code in the context of a web browser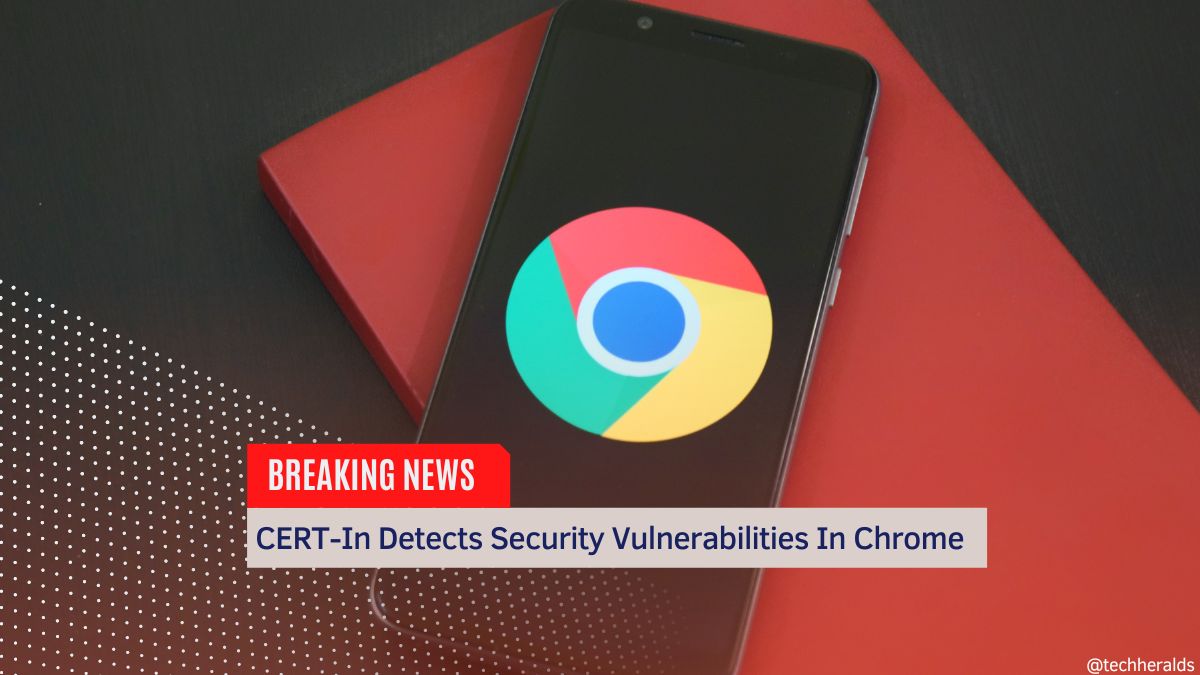 CERT-In, The Indian Computer Emergency Response Team, has urged the millions of users who use the Chrome browser on their computers to update their browsers immediately. The warning comes after the CERT-In found security vulnerabilities in Chrome.
The cyber security organisation Indian Computer Emergency Response Team (CERT-In) stated on their website that "Successful exploitation of the newly discovered vulnerabilities in chrome may allow a remote attacker to execute malicious code in the context of a web browser, steal data, circumvent security constraints, and cause a buffer overflow on the targeted machine."
Google Confirms Security Vulnerabilities In Chrome
Google has given admission that it is aware of a security issue in Chrome and has identified a patch to fix it. The company says it is currently working on distributing a new version of Chrome that will resolve the issue. Still, users may have limited access to problem information and links until most users update to the latest security patch.
According to Google's official statement, "we will keep limitations if the fault remains in a third-party library that other projects similarly rely on but has not yet been resolved."
Also Read: WhatsApp On Multi-device Will Soon Be Possible
The agency said that Google Chrome versions previous to 101.0.4951.41 were affected by a new security vulnerabilities in chrome browser. The malware mostly targets desktop computer users. Google has recognised the problem and published a list of 30 vulnerabilities in a blog post on Chrome. The CERT-In has classified about seven issues as 'High' dangers.
A team of researchers have found a series of critical vulnerabilities in Chrome. These vulnerabilities exist in Google Chrome due to Use after free in Vulkan, SwiftShader, ANGLE, Device API, Sharin System API, Ozone, Browser Switcher, Bookmarks, Dev Tools, and File Manager; Inappropriate implementation in Web Extensions API, Input, HTML Parser, Web Authentication, and iframe; Heap buffer overflow in WebGPU and Web UI Set Confusion in V8; Out of bounds data access.
To avoid the risks of cyberattacks, CERT-In has urged all Chrome desktop users to update their browsers to version 101.0.4951.41, which is now available. If you're using a Mac or Linux system, you can also update to this version of Chrome.
The flaws are present in both Windows and Mac operating systems and Linux. If you're using any of these systems and haven't updated your browser yet, you're at risk of losing sensitive data if attacked by hackers.
Also Read: Bitcoin Mining Shifting To Renewable Energy
How to Update Google Chrome Browser
Once the update is made available, the browser should immediately upgrade itself to the latest version—but if it doesn't, follow these instructions:
1) Launch Chrome on your computer and click on the three horizontal dots symbol in the upper right corner (or press Ctrl + Shift + J).
2) Click on Settings from this drop-down menu and select Help & Feedback from the list that appears next (or press F1).
3) Click on About Google Chrome from this new drop-down menu and click Update Now on this new page that appears next (or press Shift + Alt + U).
Also Read: WhatsApp Voice Calls To Have 32 Participants